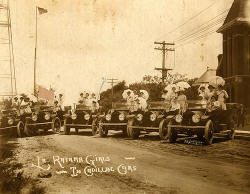 La Retama girls pose in Cadillac cars in front of the First Presbyterian Church on
Upper Broadway.
-La Retama Collection Box 7.01
On November 11, 1915, La Retama Club gave a silver tea in the library for fundraising. The following year, the club members asked the city council to appropriate $750 toward the library.
The following year, on August 10, 1916, a fire swept through the building located next door to Perry Lovenskiold's office building. Firefighters climbed ladders and threw La Retama Public Library books out the window, trying to minimize flammables. When La Retama Club members came running, they climbed the ladders and insisted that the firefighters stop throwing the books out the window until they could be gathered up in baskets and taken to safety. Because of all of the water and smoke damage, the young women dedicated themselves to washing each individual page of each book with ammonia water and hanging them on lines to dry. Every few hours the pages were turned making sure they did not stick together. The loss from the fire was estimated at around $500 (approximately $8680.64 today).
After the fire in 1916, the members of La Retama Club work arduously trying to raise enough money to keep the library open to the public. Among some of their fundraising tactics were theatrical benefits, public appeal for donations, an ice cream socials, appropriations from the City Council of Corpus Christi and Nueces County Commissioners. Yet, on November 30, 1918, La Retama Library close due to lack of public response. In January 6, 1919, the library re-opened and five days later, the Rotary Club pledged to adopt the library and its finances for one year. Then, on September 14, 1919, the library and the City of Corpus Christi were hit by a massive hurricane. The hurricane of 1919 claimed over 300 lives and more than 20 million dollars in property damage. Among the property lost was most of the holdings of La Retama Public Library.
In December, the remaining texts were sorted among members for storage at their homes. By January 1920, La Retama Club put a request in the local newspaper that anyone with La Retama books please return them. La Retama Public Library re-opened in a room in the Timon's home on Mesquite Street and then to the State Hotel, and by October, The American Red Cross donated $500.