La Retama Club History 1905-1914
The La Retama Club formed in 1905 because a group of young women who periodically attended their mother's literary club, The Woman's Monday Club, wanted an organization of their own. For this project the principals were Lorine and Kathleen Jones, Alice Borden, and Lucille Scott. The club's charter meeting, held in 1906, included the above four founders and a group of their friends. Within the first year and a half, club members included Lorine Jones, Kathleen Jones, Alice Borden, Lucille Scott, Julia Caldwell, Sarah Caldwell, Genevieve Merriman, Marion Merriman, Maude Willacy, Laura Savage, Nettie White, Emily Kerridge, Thelma Archer, Cecil Morris, Hortense O'Leary, Maude French, Mary Carroll, Pearl Crawford, Mary Craig, Ada Wheeler, and Alma Westervelt. Some of the original members are pictured below:
Maude French,

1902

Laura Savage,

1902

Julia Caldwell,

1910

Sarah Caldwell,

1903

Nettie White,

1902
-Mary Carroll Collection, Box 10.07

Ida Durand Redmond, a Woman's Monday Club member, suggested the name "La Retama Club." La Retama is a native shrub with delicate yellow flowers (whose principal common name is "Jerusalem thorn" (Parkinsonia aculeata). The club took its signature green and yellow colors from this plant.
The club's original purpose was to afford young unmarried educated women a chance to participate in literary discussion and to help their community. Within its first few years, the club began studying
Parliamentary Law from The Women's Manual of Parliamentary Law by Harriette R. Shattuck. (Boston: Lee and Shepard, Publishers, 1895.) After losing the first president, Lorine Jones, and the second president, Nettie White, and others to marriage, the club soon changed its rules to include married friends.
During the administration of the third president, Kathleen Jones, from 1908 to 1909, the club undertook work on the first public library in Corpus Christi. To raise money for the library fund, La Retama held a peanut hunt, ice cream and bake sale, and a book reception. In the summer of 1908, the young women brought the Chautauqua to Corpus Christi and sold tickets door to door. The Chautauqua week was the first time that Corpus Christi had an entire week of afternoon and night performances.
The project proceeded briskly in order to open the library doors during the presidency of Kathleen Jones. Unfortunately, many unforeseen obstacles delayed the opening until December, 1909, while
Mary Carroll was president. The La Retama members staffed and cleaned the library so that patrons could use the ever-growing collection located in the Lovenskiold Building (also known as the Hatch and Robertson Building). In 1914 Marie Blucher, the granddaughter of Corpus Christi pioneer, Maria von Blucher, became the first paid librarian.
---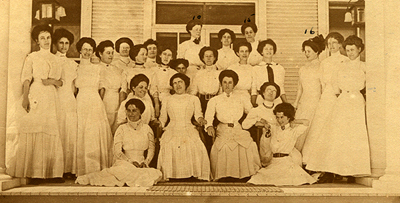 Taken at Hotel Green, Gregory 1910
Pictured left to right-standing: Laura Savage, Thelma Archer, Julia Caldwell, Amelia Daimwood, Marion Merriman, Lettie Smith, Mary Carroll, Philippine Rankin, Carrie Fitzsimmons, Gweniviere Merriman, Claude Caldwell, Mrs. George Kenedy, Ada Wheeler, Attee Born, Mrs W.D. Hale,
Mande French, Mary Craig
Sitting front row: Emily Kerridge, Mattie Caldwell
Sitting second row: Jeanette, Morris, Nettie Griffin, Laura Luther
-Mary Carroll Collection B9, 10.07

Photograph on the Water Front pre-1920, of the Ladies Pavilion where La Retama Club members held meetings and various functions.
-Photograph Collection 1 - Box 1, 1.01

Current photograph of the waterfront site where the Ladies Pavilion was previously located.
-Norma Gonzalez/Public Libraries, 2004

The Lovenskiold Building at the corner of Mesquite and Peoples. This building was originally the Hatch and Robertson building, and was bought by Dr. Perry Lovenskiold in the early 1900's and contained various offices and businesses.
-Corpus Christi Museum, McGregor Image File 058993-3, Buildings

Current photograph of site of the former Lovenskiold Building (previously the Hatch & Robertson Building) on Mesquite and Peoples which previously housed the first La Retama Library on the first floor in 1909.
-Norma S. Gonzalez/Public Libraries, 2004